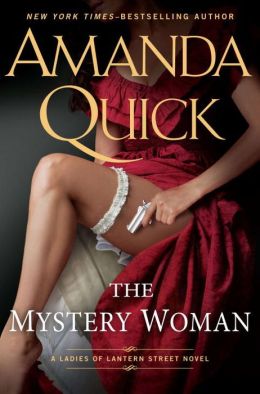 Publisher's Blurb:
Beatrice Lockwood, one of the intrepid ladies of Lantern Street, is in the middle of a case when her past comes back to haunt her. Joshua Gage, a former spy for the Crown, has come out of a self-imposed retirement after a disastrous case that left him scarred and forced to use a cane. He is hunting the villain who is blackmailing his sister.

The trail leads him to Beatrice who is his chief suspect. But when he realizes that she is not the blackmailer they set out to find the real extortionist. Passion flares between them as they dodge a professional assassin. Meanwhile a mysterious scientist intent on resurrecting his dead lover using an ancient Egyptian formula for preserving the bodies of the dead is also hunting Beatrice. He is keeping his dead love perfectly preserved in a special, crystal-topped sarcophagus filled with the special fluid. But he needs Beatrice's paranormal talent to activate the reviving properties of the preservative in the coffin. Time is running out for everyone involved.

The two cases collide at a mysterious country-house filled with artifacts from ancient Egyptian tombs. The drama concludes in the mad scientist's laboratory where Joshua discovers that the past he thought was dead is still very much alive — sort of
RHL Classifications:
Time Frame:  Victorian England
Heat Level:  2
Review Rating:  4 Stars
Review by Susan:
What movie director Frank Capra did for romantic comedies in the 1940's, Amanda Quick has done for historical romance.  Like Capra, Quick has a formulaic plan when approaching a story that makes it embraceable.  No matter how many times a reader can predict the direction of the story, Quick, a pseudonym for author Jayne Ann Krentz, always infuses a few surprises that motivate the reader to continue.
Balancing elements of entertainment with fractions of mystery and stirring developments which keep the arcs in the story fluxing, Quick interlaces the pieces perfectly making for a well-thought out plot and a heart warming romance that rouse the reader's extrasensory instincts.  The bonds that hold the story together make the drama cohesive while interspersed with moments of humor and charm.  Quick's story branches beyond the personal ties that bring the main characters together.  She additionally inserts reflections about Victorian culture, their open attitude which spurs new ways of thinking and their need to contribute to society's well-being.
The second book in the Ladies of Lantern Street series, The Mystery Woman can stand on its own as the story brings together Beatrice Lockwood and Joshua Gage, both of whom possess paranormal abilities and have positions that allow them to use their abilities as private investigators.  Their separate assignments draw them together making it necessary to work side by side.  Their attraction has a natural flow as the story builds with a mix of spontaneity, logical progressions, and deductive reasoning.
In true Amanda Quick fashion, the story has a happily-ever-after ending which audiences can always anticipate from her books.  What makes the story original is the distinct path which Beatrice and Joshua travel along to reach their destination.  How the characters arrive at their HEA is what drives the reader to stay with the story and take in every nuance and puzzling turn.  Like in a Frank Capra flix, it is clear to the reader that the couple is meant to be together.  It's the path taken that distinguishes Capra's movies, so too is it equally true for Amanda Quick's novels.